Gmail recently rolled out its biggest redesign ever which brought a huge set of changes to the popular e-mail service.
The most prominent update in the new Gmail is the introduction of "confidential mode".
It allows senders to set an expiration date on sensitive e-mails. The mode lets you block the forwarding, copying, downloading, or printing of sent e-mails as well.
Two-factor authentication of e-mails
Under the confidential mode, you can also set two-factor authentication (2FA) on e-mails. Recipients will have to authenticate an e-mail with a passcode, which will be received via a text message, in order to open it.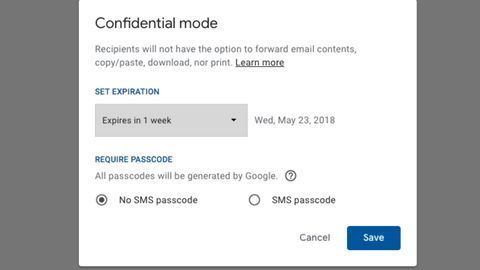 Here's the procedure of making an e-mail self-destructive
Compose an e-mail and click on the padlock icon at the bottom of the window.
This will enable the confidential mode so recipients won't be able to forward, copy, download, or print the e-mail's contents.
You will be provided with two choices to further secure the e-mail: set an expiration date on it and/or make it password-protected. Select both.
Hit save, e-mail will turn blue to indicate it's confidential
Notably, you can only select from the list of expiration dates Google offers (1 day, 1 week, 1 month, 3 months, 5 years). Before sending the e-mail, Gmail will prompt you to enter the recipient's phone number for the purpose of sending him the password.
Access restricted e-mails for only 10 minutes at one stretch
On opening a confidential e-mail, recipients will be shown with a "Send passcode" option.
After entering the passcode, they can access the e-mail for 10 minutes. After every 10 minutes or in case of re-opening the e-mail, recipients will have to request a new passcode.
The e-mail will also come with a disclaimer at the bottom that will inform when the e-mail will expire.
Content will automatically disappear after a set period of time
Once the expiration time is reached, the e-mail will become blank. Its timestamp will also get permanently set to the time it expired. Recipients will be able to see the subject line though. Interestingly, the sender can renew access for the recipient retrospectively as well.